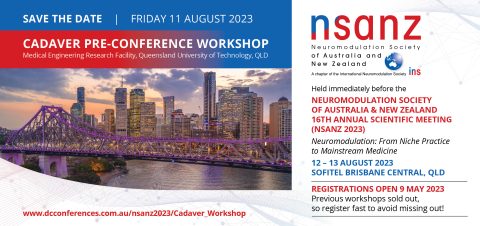 Pre-Conference Cadaver Workshop
Start/end date: 11/08/2023 - 11/08/2023 Location: Brisbane
Following a successful Cadaver Workshop in August 2022 in Melbourne, NSANZ is pleased to offer another hands-on Cadaver Workshops in August 2023 before the NSANZ ASM. It will will take place at the Queensland University of Technology, Brisbane on Friday 11 August 2023.
The Radiofrequency (RF) Workshop
Focus on radiofrequency ablation technique of the spine (lumbar, sacral, thoracic and cervical). The workshop will also feature radiofrequency procedures for craniofacial pain, shoulder, hip and knee along with sympathetic plexus. Along with conventional RF, it will also feature cooled RF, pulsed RF and bipolar RF technique.
The Neurostimulation Workshop
Focus on various implanting techniques for thoracolumbar, sacral and cervical spinal stimulation. The workshop will also feature peripheral nerve stimulation, dorsal root ganglion stimulation, multifidus muscle stimulation, intrathecal drug delivery system, surgical implant and suturing station.
Register your Interest