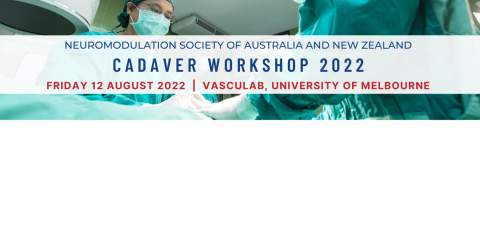 Cadaver Workshop
Start/end date: 12/08/2022 - 12/08/2022 Location: Melbourne, Australia
Pre Conference Cadaver Workshop
Vasculab, University of Melbourne
Reading the feedback from past workshops, the education committee will tailor a program where each delegate can sign up for one or both workshops on neurostimulation and radiofrequency (RF) interventional pain procedures. The programs will each be a half day cadaver lab session (no didactic lectures) in both forms – RF procedures in the morning and neurostimulation in the afternoon.
Register Now!

15th Annual Scientific Meeting (NSANZ 2022)
Start/end date: 13/08/2022 - 14/08/2022 Location: Melbourne, Australia
On behalf of the Neuromodulation Society of Australia and New Zealand (NSANZ), I would like to extend a warm invitation to clinicians, nurses and allied health professionals to join us at the 2022 Neuromodulation Society of Australia and New Zealand 15th Annual Scientific Meeting, from 13 – 14 August 2022. We are heading to the sporting and cultural capital of Australia – beautiful, wintery and lively Melbourne.
The meeting program will be led by a number of esteemed international and national guest speakers. It will consist of breakout sessions, scientific posters, social networking and a cadaver workshop.
We hope to bring an exciting and diverse program that will delve into the latest advancements in neuromodulation, both from a theoretical and practical perspective. It will cater to all who are involved in the field of neuromodulation, including those who are just starting out in this field. Click here to see the program.
With the challenges facing Australia and the rest of the world, created by the COVID-19 pandemic, we hope to welcome you in Melbourne, in person but are aware of the possibility of a changing to a virtual program.
With our excitement hidden behind our masks, we look forward to seeing you all in 2022, in our own vibrant city of Melbourne.
Dr Meena Mittal & Dr Nathan Taylor
NSANZ 2022 Co-Convenors
Register now!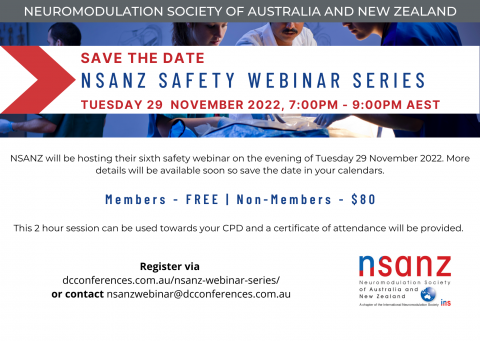 NSANZ Safety Webinar
Start/end date: 29/11/2022 - 29/11/2022 Location: Online
SAVE THE DATE!
This is the sixth in our series of Safety Webinars
Webinar Time: 7:00pm – 9:00pm AEDT
Registration Fees (GST Inclusive):
NSANZ Members                    FREE
NSANZ Non-Members          $80.00 AUD
To increase engagement in this webinar all participants are requested to please bring/have ready a case to discuss or a question for the expert panel.