NSANZ April Cadaver Workshop 2021
Start/end date: 17/04/2021 - 17/04/2021 Location: Macquarie University Hospital, Macquarie University, Sydney, NSW 2109
NSANZ is offering an additional workshop on Saturday 17 April 2021. This workshop will be held in the newly upgraded cadaver lab at Macquarie University and will focus on Neurostimulation. It will be a full day event consisting of didactic lectures on advanced cutting-edge topics and hands-on cadaver lab covering a wide range of different Neurostimulation modalities.
Limited registrations available so secure your spot now!
View website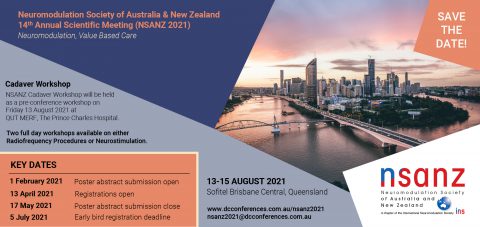 NSANZ Cadaver Workshop 2021
Start/end date: 13/08/2021 - 15/08/2021 Location: QUT Medical Engineering Research Facility (MERF), The Prince Charles Hospital, Brisbane
There will be two full day Cadaver Workshop's running on Friday 13 August as below with each workshop consisting of a half day workshop in the cadaver lab and half day didactic lectures.
Radiofrequency Procedures
Neurostimulation
Delegates will be able to register for just one of the two available workshops and spaces will be limited.
View website